Digital Health Research Capability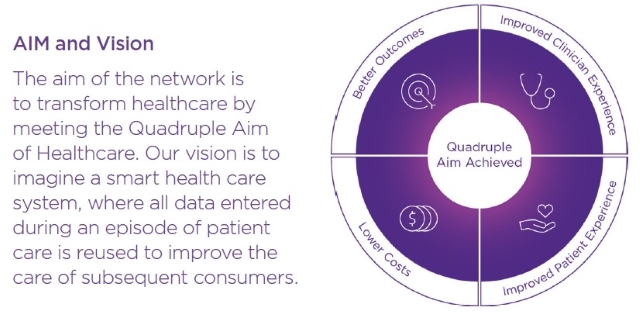 Digital healthcare is showing promise to address the imbalance between demand and resources.
However, the overwhelmingly highlevel digital information generated at the frontline of clinical care has highlighted the risk of digital records becoming mere filling cabinets, if not processed, analysed and shared properly across clinical settings.To ensure full benefit of digital records, all data entered during routine clinical care should be available and ready to be re-used for continuous quality improvement and research. Outputs available to clinicians and users in near real-time can drive continuous, iterative, data-driven improvement of patient outcomes.
The Global Change Institute has created an easy reference summary of UQ's Digital Health research capability.
Dept of Environment & Science execs visit GCI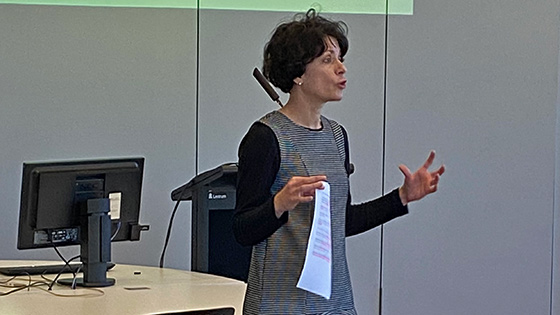 29 July 2021
The Global Change Institute hosted representatives from the Queensland Department of Environment and Science for a networking meeting on Thursday, 29 July.
The delegation was led by Deputy Director-General Science and Technology Division Dr Mark Jacobs and Executive Director Science Strategy and Partnerships Dr Julia Playford.
The meeting was an opportunity to share GCI's vision with the Queensland Department of Environment and Science, with a view to potential collaborations in the future.
Unpacking the modern workspace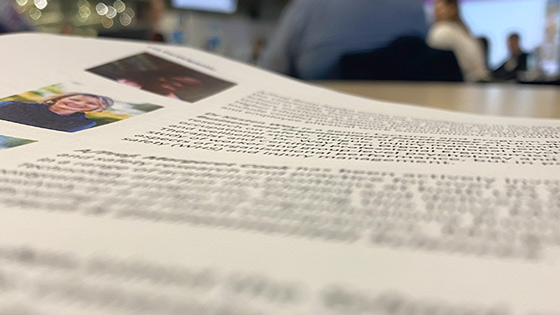 16 July 2021
The Global Change Institute brought together more than 40 senior leaders and experts from industry, government, the private sector and academia to discuss the physical and virtual workplace challenges and opportunities resulting from numerous global trends and events.
Participants at the Next-Generation Workspaces workshop collectively examined the question of where the modern workplace is heading and what new solutions will be needed to ensure workers and organisations remain productive, innovative, healthy and resilient.
Protected croppers get digging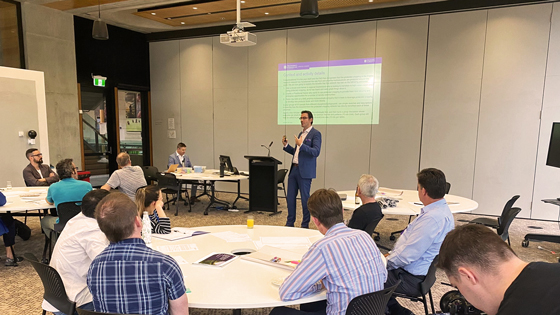 30 April 2021
GCI has hosted a dedicated protective cropping workshop to identify the 'Ideal future state' & benefits of the growing sector.
Researchers anticipate protected cropping will generate multiple benefits for growers, producers and consumers, ranging from increased yield to reduced use of pesticides and more efficient use of water.
Hosted by GCI Innovation Broker Tony Tucker and Research Nexus Manager Crighton Nichols, the workshop was attended by 18 researchers from areas such as horticulture, gemonics, engineering and biological science.
Investing in change through research funding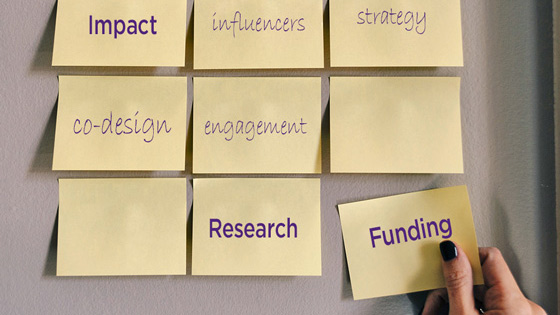 27 April 2021
How do funders think about investing in research that is intended to lead to change?
This blog post is written from the perspective of a research funder.
More specifically it is based on reflections and lessons learned during five years managing and directing strategic research programs at a not-for-profit foundation, investing in science that would benefit the health and resilience of Australia's Great Barrier Reef.
Our funding mandate was to include research in a larger body of work towards a broader vision of change.
This therefore provided the basis of my work and helped me shape the view that the funder has a big and critical role to play.
Digital health global change research network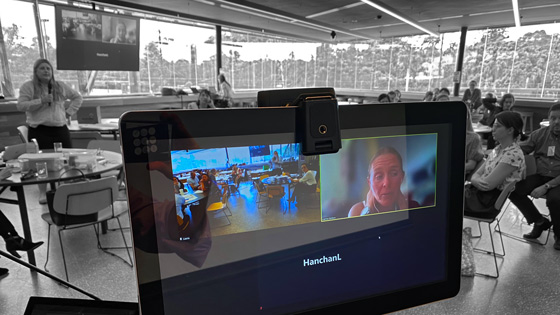 22 April 2021
More than 20 academics from five UQ faculties workshopped the vision, scope and funding roadmap of GCI's Digital Health Network at St Lucia this week.
One of the overarching considerations for the network was how best to meet the quadruple aims of healthcare i.e. moving towards better outcomes, improved patient experience, improved clinician's experience and reduced costs.
Future network programs and work packages will be designed to align with the Three Horizons outlined in the 2026 Queensland Health Digital Transformation Strategy​.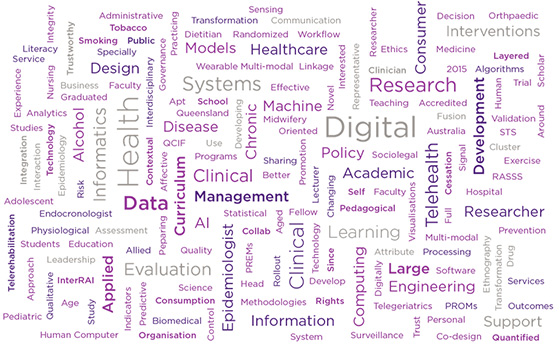 Next generation workspaces network
21 April 2021
In her introductory remarks at GCI's Next Generation Workspaces Network inaugural workshop, UQ Business School Associate Professor Remi Ayoko said she was inspired by the depth of research talent in the room.
The event attracted representatives from a diverse range of UQ disciplines, including researchers from psychology, urban planning, electrical engineering, law, economics and IT, among others. 
Convener and GCI Innovation Broker Alex Blauensteiner said he expected to arrange another meeting of Next Generation Workspaces Network before the end of May.
A new way to prevent childhood obesity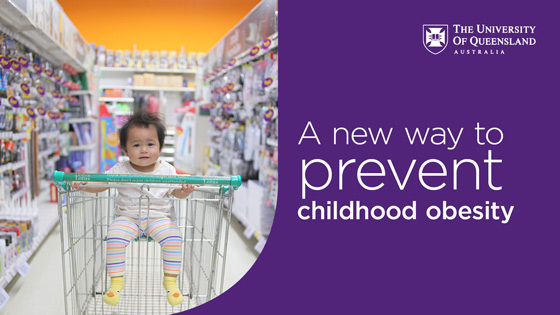 19 April 2021
For the first time in Australia, researchers can accurately predict if babies are at risk of childhood obesity by the age of eight-to-nine years of age.
Researchers from The University of Queensland have developed and validated the i-PATHWAY model, which uses simple risk factors mostly gathered during routine doctor visits at 12 months of age to predict future childhood obesity.
Research Fellow and dietitian with the UQ Centre for Health Services Research Dr Oliver Canfell* says i-PATHWAY could calculate the risk of childhood obesity with 74.6 per cent accuracy.
(* Dr Canfell is also an active member of the GCI Digital Health Learning Network.)
The building blocks of life -- proteins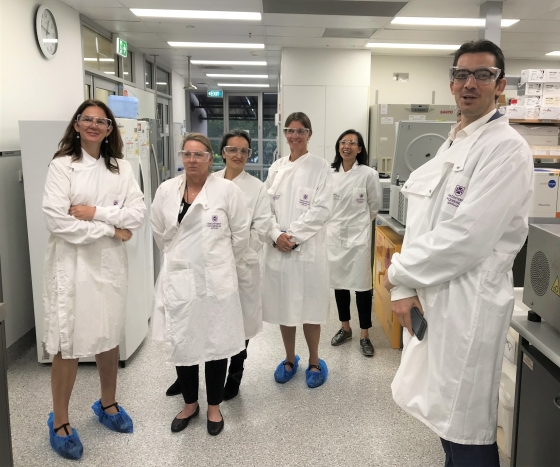 22 March 2021
GCI staff were treated to a behind-the-scene tour and introduction to the UQ Protein Expression Facility by PEF Director Professor Linda Hwee-Lin Lua and assisted by PEF research specialist Dr Tayo Adeniyi.
PEF is widely recognised as Australia's leading protein research facility, specialising in recombinant protein production.
How to get the most out of research ...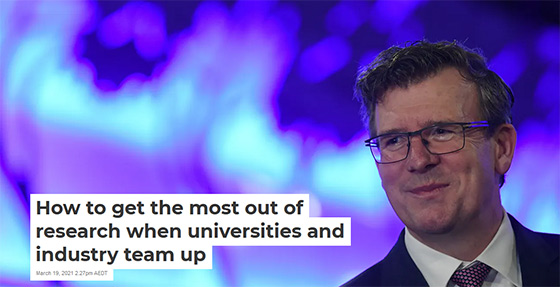 19 March 2021
GCI Director Professor Rachel Parker co-authors article about research collaboration for The Conversation, which argues productive relationships do not occur organically.
Digital health network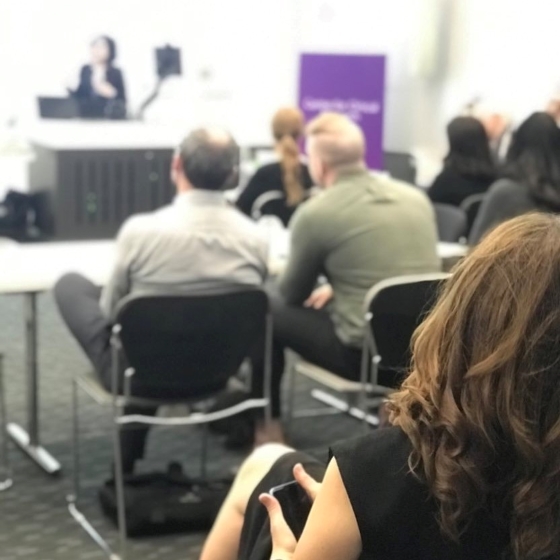 12 March 2021
This GCI designed and facilitated Digital Health Network workshop focused on rich and productive collaboration between diverse disciplines and external partners including industry, and government.
Drawing on UQ's research excellence in the digital health space, the objective was to create a foundation for effective collaboration which enables diverse stakeholders to explore possible futures and design programs of research that will address strategic health challenges.
For more information contact: GCI Innovation Broker Dr Laura G. Carrascosa.
Future of work and workplaces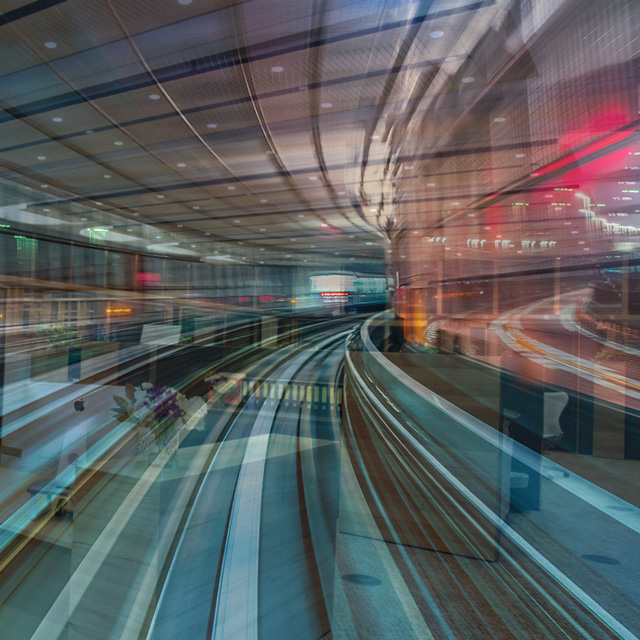 10 March 2021
The GCI Team brought a small group of UQ experts together from a broad range of disciplines that are examining the Future of Work & Workplaces to explore the key issues that need to be addressed over the next 10 years by organisations, workers, policy makers, regulators and financiers.
The facilitated session identified the broad range of key factors driving the current and anticipated changes to the way we work, where we work and what we do, and identified areas where UQ can collaborate with partners to help ensure we a future with productive, equitable, secure, safe and meaningful work.
For more information contact GCI Innovation Broker Alex Blauensteiner.
Celebrating international women's day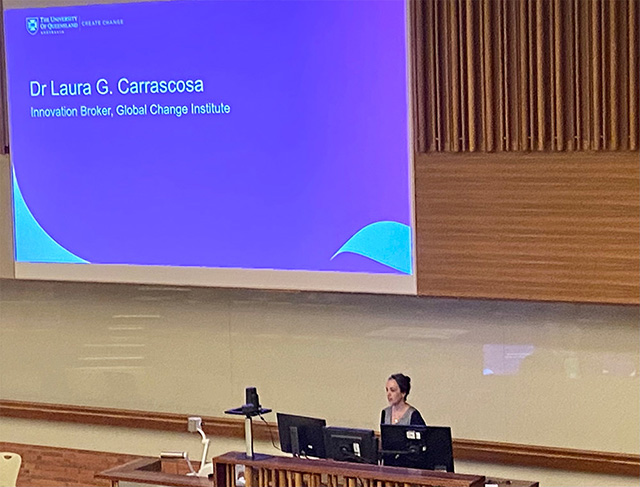 8 March 2021
Global Change Institute Innovation Broker, Laura Garcia Carrascosa, proudly joined Professor Geoff McColl, Executive Dean of the UQ Faculty of Medicine; Professor Karen Moritz, Associate Dean of Research, Faculty of Medicine; and UQDI Staff, Dr Georgia Mori, Dr Snelahta Kumari and Dr Stacey Cole to celebrate International Women's Day at the Diamantina Institute.
International Women's Day is a global day celebrating the social, economic, cultural, and political achievements of women -- all united this year under the banner: Choose to challenge. Laura shared her personal story and reflected on some of the challenges she has faced in her career.
Supporting community centred research for impact
3 March 2021
GCI Innovation Broker Dr Petra Lundgren provided the keynote address at the Network of Interdisciplinary and Transdisciplinary Research Organisations -- Oceania workshop.
Dr Lundgren addressed how funders could invest in change through active management and engagement with the research they fund.
Moreton Bay – fast-tracking population and jobs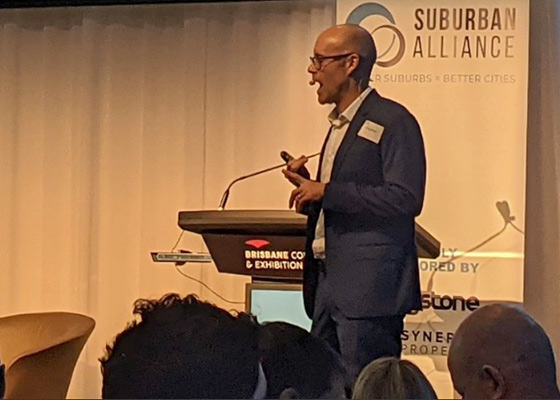 23 Feb 2021
As part of GCI's focus on driving UQ's Next Generation Workplaces and the Future of Work research, GCI's Alex Blauensteiner (above) was keynote speaker at the Suburban Alliance's Moreton Bay – fast-tracking population and jobs industry breakfast.
Alex joined Moreton Bay Regional Council CEO, Greg Chemello, CEO of The Mill Precinct, Stuart Pickering, and Head of the University of Sunshine Coast's Moreton Campus, Dr Karen Becker, to discuss how organisations are responding to COVID 19 in regards to where and how their staff work, and how organisations are thinking about their operational locations and work environments moving forward.
Linking policy to research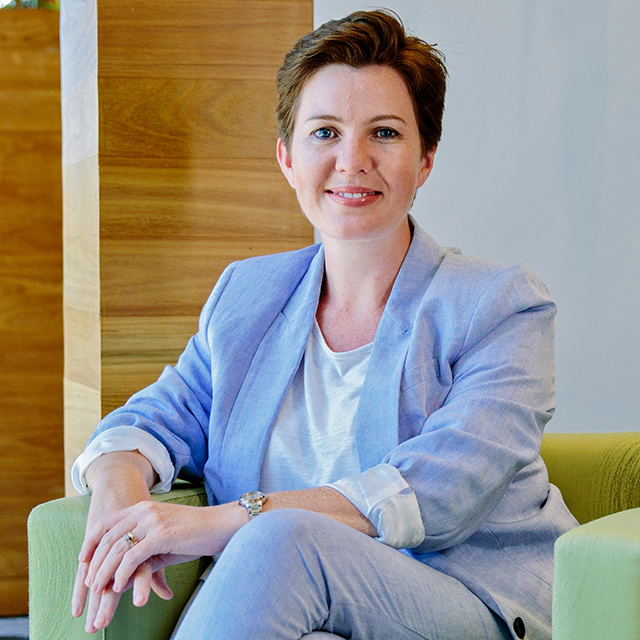 17 Feb 2021
Professor Karen Hussey, Deputy Director General Queensland Department of Environment and Science, visited GCI to brief UQ researchers on Queensland Government policy within the environment portfolio.
A respected political scientist and economist – and inaugural director of the UQ Centre for Policy Futures before taking up her current role with DES – Professor Hussey's research focuses on policies, institutions and governance arrangements for sustainability.