Petra joins the UQ team following five years of managing and directing strategic science programs for the Great Barrier Reef Foundation.
During this time, she established and managed a science portfolio focusing on restoring and building resilience of coral reef ecosystems.
Throughout a diverse career spanning research, government and not-for profit organisations, science has always been front and centre of her roles.
She has PhD in Molecular ecology and spent three years with the Australian Institute of Marine Science investigating the genetics of stress adaptation in corals.
Other career highlights include establishing the Marine Science for Management research grants in East Africa during her time with the Swedish development cooperation agency and providing species and ecosystem vulnerability assessments and scientific support during the development the first Reef 2050 Plan for the Great Barrier Reef Marine Park Authority.
With a passion for incentivising collaborations around scientific solutions to global environmental challenges, she has always gravitated towards roles at the intersection of science, conservation, innovation and impact.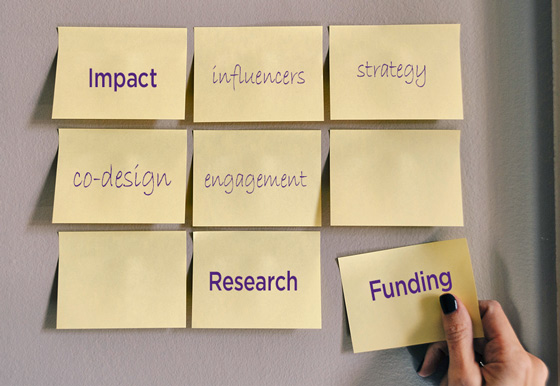 Investing in change through research funding
27 April 2021
By Petra Lundgren
How do funders think about investing in research that is intended to lead to change?
This blog post is written from the perspective of a research funder. More specifically it is based on reflections and lessons learned during five years managing and directing strategic research programs at a not-for-profit foundation, investing in science that would benefit the health and resilience of Australia's Great Barrier Reef. Our funding mandate was to include research in a larger body of work towards a broader vision of change. This therefore provided the basis of my work and helped me shape the view that the funder has a big and critical role to play.