To celebrate Youth Week 2022, UQ and the Queensland Government invite UQ students under 25 to brainstorm their most pressing research questions.
At Carpe Futurum, a special youth research forum on 1 April 2022, facilitator and fantasy writer Professor Kim Wilkins will immerse you in imaginative games to create a vision of the future you want to inherit.
Multiple scholarships valued at up to $5000 available to approved research projects.
Together, you'll generate some of the research questions that will need to be answered to allow your ideal future to become a reality.
As well as being able to influence the direction of future UQ research, participants will be eligible to apply for research scholarships valued at up to $5000 each.
Morning tea and pizza lunch provided. Visit the Carpe Futurum registration page for more information. 
Limited places. Bookings essential for catering purposes.
What are the issues young adults want to see addressed by UQ research over the next decade?
Download event flyer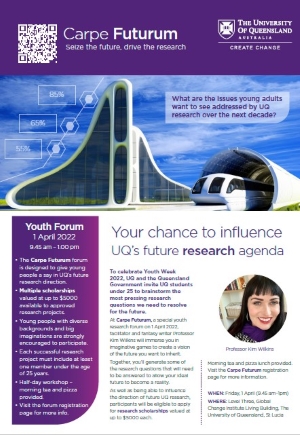 Forum program
09.45 am:  Registration and coffee
10.00 am:  Welcome – Prof. Rachel Parker, GCI Director
10.15 am:  Overview of the workshop/proposed outcomes, outline of how to access scholarships – Prof. Kim Wilkins
10.30 am: Imagining 2032 – using activities borrowed from speculative fiction storytelling, participants are encouraged imagine the best possible future and the steps it may take to get there.
12.20 pm: Wrap-up & questions
12.30 pm:  Pizza lunch