GCI panel discussion
GCI Atrium
Friday, 22 October
Midday - 1.00 pm
Venue
Room:
Global Change Institite Atrium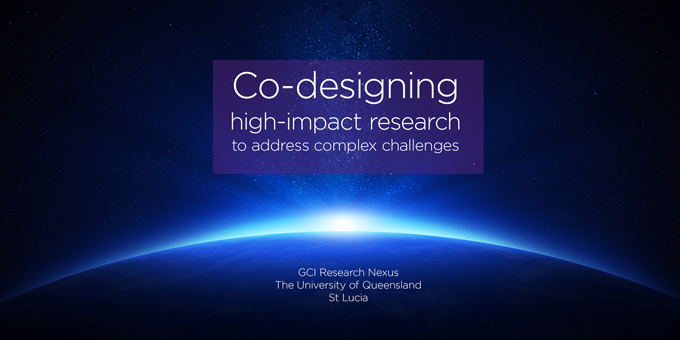 Please note: Due to the uncertainties of Covid-19 restrictions, this event has been re-scheduled to take place on Friday, 22 October 2021. Because the 'live' audience component is already fully subscribed, all subsequent registrations will be for streaming access. Details regarding how to view the event online will be issued before the event. Secure your E-ticket via Eventbrite.
Many of society's most pressing challenges are complex and multi-faceted.
Such challenges range from global pandemics to climate and biodiversity disasters, the tensions caused by socio-economic inequalities, and the risks posed by emerging technologies.
Being able to successfully address these complex challenges requires research that is co-designed with a diverse range of participants to help ensure impact is considered throughout the process, and not just applied or translated afterwards.
Join us in a panel discussion with four leading UQ academics as we explore the why, what, and how of co-designing high-impact research to address complex challenges.
The event is hosted by the Research Impact Nexus at the Global Change Institute and will be facilitated by Dr Crighton Nichols.
To comply with Covid-19 guidelines and the number of guests we can allow to physically attend on-site is restricted. However, you are very welcome to view the panel discussion online by registering for an E-ticket.
---
Guest panelists
School of Political Science and International Studies
Professor Brian Head joined UQ in mid-2007 after holding senior roles in government, universities, and the non-government sector. His major interests are evidence-based policy, complex or 'wicked' problems, program evaluation, early intervention and prevention, collaboration and consultation, public sector integrity, and leadership. He has undertaken several consultancies on program evaluation, policy review, organisational performance, and good governance processes. He has strong interests in applied research across many areas of public policy and governance, and is committed to building closer links between the research and policy sectors.
School of Psychology
Barbara's research uses social psychological theory to solve real social problems. Over 19 years she has collaborated with a range of industry partners (e.g. Australian Red Cross Lifeblood; state police agencies) to design and evaluate theory-based solutions to problems as diverse as how to minimise bias in investigating allegations of sexual assault to how to maximise blood donor appointment attendance.
School of Chemical Engineering
Dr Kate O'Brien works in interdisciplinary teams, with collaborators from engineering, ecology, mathematics, business, social science and economics. She is particularly interested in how scientific knowledge can be synthesised and communicated to promote sustainability when dealing with complex systems and wicked problems. Kate teaches her students to think critically using an approach of Ruthless Compassion, and she is passionate about finding creative solutions to work-family conflict.
School of Communication and Arts
Kim is passionate about interdisciplinary and transdisciplinary collaboration and methodologies, and is currently engaged with research teams on defence innovation and medical education. She leads creativity workshops for researchers in other disciplines to help them imagine different perspectives on research problems and their stakeholders. Since 2019, she has served a leadership role as Deputy ADR in the Faculty of HASS, with a special interest in research training and encouraging interdisciplinary connections.
Workshop details
Where
Global Change Institute Atrium, Building 20, The University of Queensland, St Lucia
When
Friday, 22 October 2021 (12 Midday – 1.00 pm)
Parking
Detailed information about casual parking at UQ is available here.
Public transport: Five-minute walk from UQ Lakes Busway.
Registration
Eventbrite
Key health messages
Please stay at home if you are unwell.
If you become unwell during the event, please notify an event staff member who will escort you to the first aid officer for assessment.
Maintaining physical distancing requirements is the responsibility of each attendee, please ensure you stay 1.5m away from other attendees during the event unless in allocated seating.
There will be enhanced public health measures in place at the event to monitor the health and safety of all attendees.
All attendees coming in-person will be required to download the Check In Qld app prior to attending the event and check-in at the event using the QR codes provided.
Please do not attend the event in-person if:
you are waiting for a COVID-19 test result
you have been in close contact with a person who is positive for COVID-19
you are positive for COVID-19
you have had a fever, cough, sore throat, headache, distorted sense of taste, shortness of breath, chills, vomiting, or any cold/flu-like symptoms in the last 72 hours
you have travelled overseas or to a declared COVID-19 Hotspot, exposure site or place of concern in the previous 14 days, as defined by the Chief Health Officer.