The Opportunity
The forecast significant adoption and grid connection of energy storage devices (including home batteries and EVs) by households, small businesses and communities will enable:
Various domestic and commercial energy supply, quality and cost challenges to be addressed
Greater and more effective use of and return on investment from installed renewable energy capability
Faster emissions reduction and progress towards Net Zero.
The Challenge
Adding batteries at-scale to homes, businesses and the energy network will create additional complexity in the energy-supply chain and create a range of new stakeholder challenges and opportunities.
Many critical battery-customer and battery-user questions need to be answered by the energy networks, the battery supply chain and policy makers.
Understanding if, why, when and how different types of households and small businesses will purchase and use batteries will enable stakeholders to effectively prepare for different customer needs, barriers and behaviours.
These current 'information gaps' can be best addressed by enabling industry and government to gain access to real-life, customer evidence and intelligence.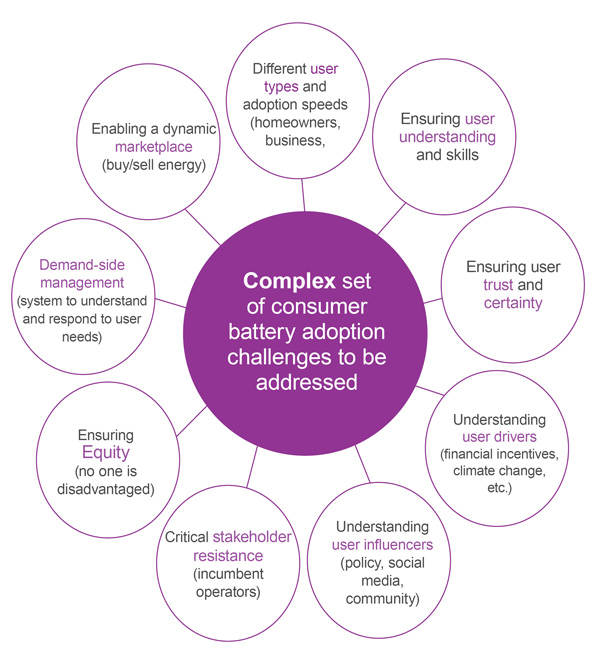 The Solution – Customer Battery Living Labs
UQ's Global Change Institute is partnering with public, private and community groups to establish and operate Customer Battery Living Labs.  A series of specifically designed labs lead by UQ will enable participating partners to gain a clear and deep understanding of real battery customer and user needs, behaviours and challenges.
This new evidence base will enable partners to answer their critical commercial, investment, product development, policy and regulatory questions, and enable stakeholders to:
Increase uptake, utilisation and effectiveness of batteries.
Enable smoother mass connection of batteries to the grid, benefiting consumers, energy suppliers, governments and battery supply chains.
Assist networks address forecast energy supply, cost and quality challenges.
Drive renewable energy use and emission reductions.
Maximise overall community benefits.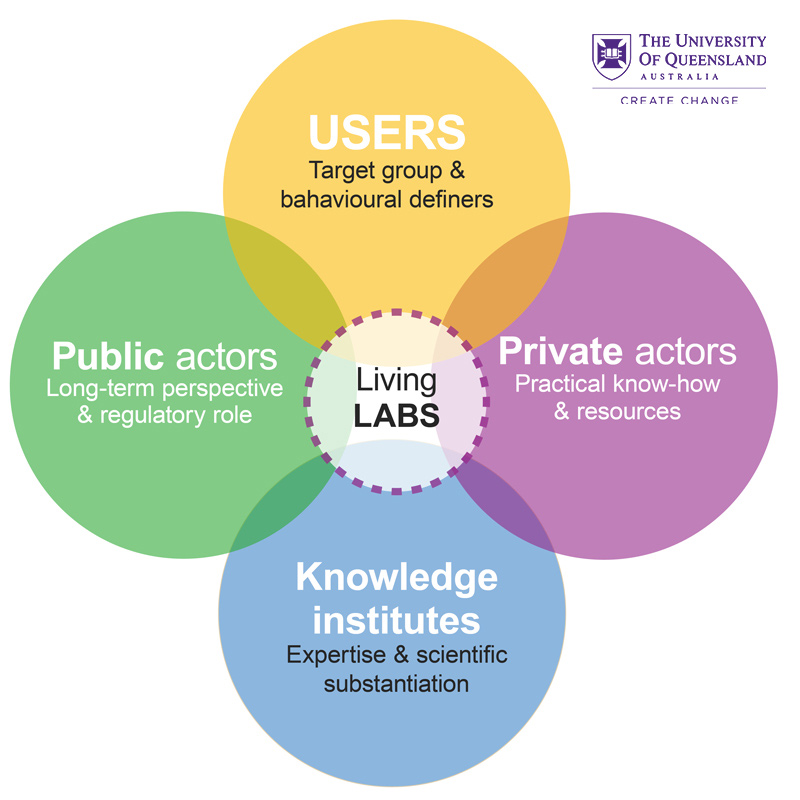 Lab partner benefits
Lab partners will benefit through:
Tailored lab focus – participate in the co-design of labs that will provide answers to partner's specific information and evidence needs.
Lower Investment – shared cost of accessing required evidence through co-investment with other lab partners
Engagement and visibility – working with others along the household energy storage value chain will improve partner's visibility regarding other stakeholders' plans, activities, capabilities, issues and impacts.
Access to test environments – access to controlled, real-world test environments where partners can safely test new service ideas, interventions, incentives and technologies.
Access to leading edge experts and facilities – including UQ's consumer behaviour, psychology, economics, policy, engineering, data (interrogation, visualisation, security) trust, ethics and other important capabilities and lenses.
Participation in partner policy forums – a voice at the table in Household Energy Storage Policy Forums facilitated by UQ.
Find out more
Contact Global Change Institute
Alex Blauensteiner
Innovation Broker
a.blauensteiner@uq.edu.au
Download
Initiative overview for partners