Digital Health Research Network
About us
UQ has an extensive and multidisciplinary presence in digital health research and implementation. Our Digital Health Research Network brings together experts in clinical, technological, business and economic domains to accelerate the digital transformation in care delivery and people's health.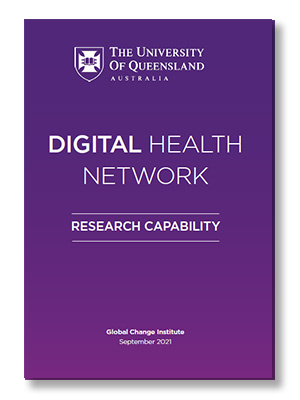 With a reputation for research excellence with proven success in health innovation, UQ is well equipped to deliver impactful research together with industry and academic partners.
Download our easy-to-read guide to digital health research capability. (PDF, 5.4 MB)
Quadruple Aim
The Quadruple Aim is an overarching goal for healthcare transformation into a learning healthcare system.
It is widely accepted as a compass to optimise health system performance. The Quadruple Aim is to improve patient experience, improve clinician experience, improve population health and reduce costs.
​Our vision is a digitally enabled learning healthcare system, where all data entered during an episode of patient care is reused to improve the care of subsequent consumers. ​
Our digital health strategy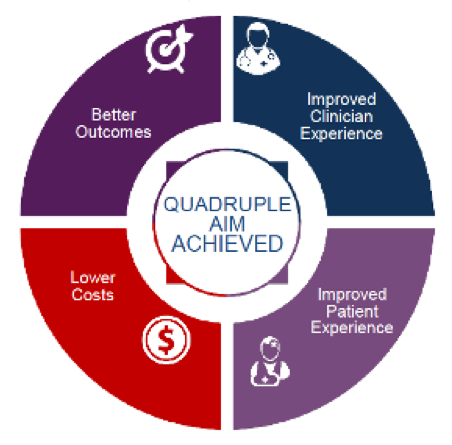 1. Horizon one – Digital Foundations​
Better access to information​, decision support, establish clinical governance
2. Horizon two​ – Data analytics​
Data to improve quality and efficiency of care​, increasing reliability​ reducing variation
3. Horizon three – Innovation & New Models of Care​
Analytics for quality improvement​, personalised medicine​, predictive and prescriptive analytics
Network members
Led by Associate Professor Clair Sullivan, the program includes researchers from a broad scross-section of The University of Queensland.
Internal
External

The Queensland Digital Health Grand Rounds is designed to bring clinicians, academics and researchers together to hear up-and-coming innovations and applications of informatics in healthcare.
The sessions inform and update participants on the latest developments in research and how health informatics is translating to inform and directly impact clinical care and patient outcomes.
The rounds provide the leading digital health update in the state. Hosted by UQ and the Metro North Hospital and Health Service (MNHHS), leaders in emerging digital innovations present monthly/quarterly.
Clinicians, academics and system leaders from across Queensland attend.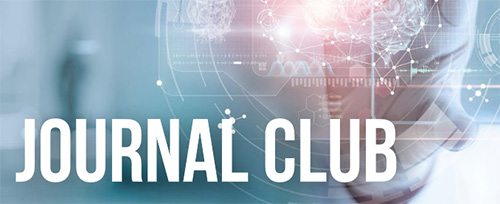 The Queensland Digital Health Journal Club showcases the latest developments in digital healthcare through emerging international, national and local research.
It is a shared learning environment for digital health to ensure contemporary and evidence-based thought, understanding and practice.
The Journal Club is jointly hosted by the Queensland Digital Academy, UQ and MNHHS. The club meets on the second Wednesday of each month between 12.00 noon and 12.45 pm.
More information here. To join and for general enquiries, please contact QDA@health.qld.gov.au
Contacts
Global Change Institute, Innovation Broker: Dr Laura G. Carrascosa.